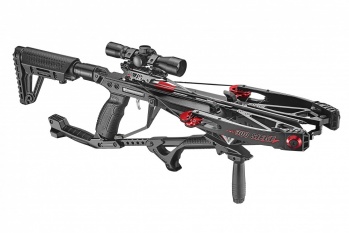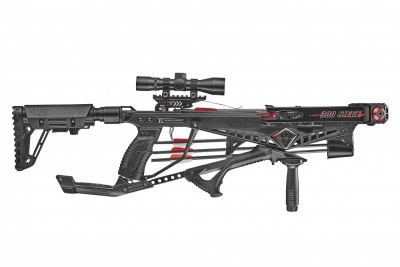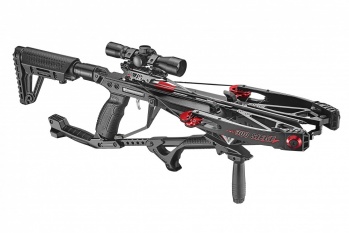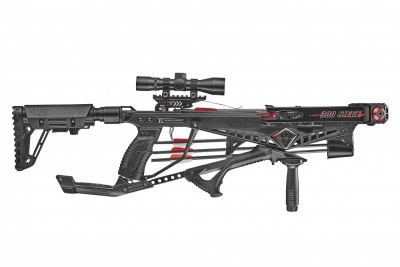 OVER 18 ONLY!
IF YOU ARE NOT ON Electoral Roll - YOU WILL HAVE TO SEND US PROOF OF AGE- ( COPY OF ID - TO : sales@silverarchery.co.uk- FOR EXAMPLE, DRIVING LICENSE, PASSPORT..ETC
The Cobra System can only be described as a game changer there is nothing like this on the market nor has there ever been this type of crossbow before and now there is a compound version! Unlike most compounds the strings and cables can be replaced without the use of expensive presses and the draw weight can be adjusted up to 150lb and 300 ft/sec.
Underlever Cocking System

The underlever cocking system allows for easy crossbow cocking for even the smallest shooter. You can even cock this bow while it is shouldered. This is a huge advantage because you can keep your eyes on the target and shoot several bolts at the same time.
Fast repetitive shooting

Because you can cock this crossbow when it is shouldered, you can keep your eyes on the target and fire multiple bolts on it. This will not only help you when shooting at fast moving targets, but also keeps you focused while shooting at a your intended target.
Specifications

Draw Weight: 150lb

Power Stroke: 8.25"

Length: 20.5"

Width: 6 7/8" (cocked) 10.5" (uncocked)

Velocity : 300ft/sec



Package Includes
- 1 x Red/Blue Illuminated Reticle Scope

- 1 x Shoulder sling

- 1 x Fore grip

- 1 x Lubewax

- 1 x Safety glasses

- 3 x 15.5" Carbon Bolts

- 1 x Bi-pod

- 1 x Quiver